[ Home ] [ The Novel ] [ The Appendix ] [ The Author ] [ Comments ] [ Misc ] [ Links ]
Reader's Comments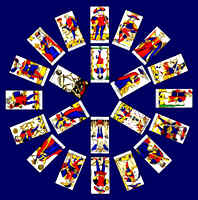 If you would like to E-mail the author, Nathan Cate, just click on the Tarot Wheel above. Mail will be forwarded to him and he will try to answer all serious correspondence he receives, time and volume permitting. If you don't wish to have your comments posted here, please say so in your E-mail. Below are a few excerpts of letters and reviews regarding Sanctuary of the Gods.
Reader's Comments:
"Fascinating concept and historical verisimilitude...an engaging and unfailingly smart story." Scott Moyers, Senior Editor, Random House.

"I'm not a New-Age enthusiast, or a pagan, and I don't believe in fortune telling or the Tarot. The story was very good and I enjoyed it a great deal. But I thought it was based on a clever idea, nothing more. Then I started looking over the appendix. I know this will sound heretical to some of my colleagues, but I think [Sanctuary is] really on to something. It could be that we're going to hear a lot more about this in the future..." Paul Chatenay, archaeologist, Sydney Museum.

"The [story gives] new life to the old ways of paganism....The author has a deep and penetrating insight into the true meaning of the myths and legends of paganism....The section on the tarot...offers new and novel insight into the meaning of the cards and their relationship to the old ways....I found the book to be an inspiration....a definite read for the 'new pagans', and it has insights for those who already follow the old ways. I recommend this work for all students of the occult." Jack L. Eyton III, Reviewer, Occult World Ledger, http://occultworldledger.com/reviewlink.htm

"Wow. What more can I say?! Sanctuary of the Gods, written by Nathan Cate, presents the origins of Taro (Tarot) Cards in a very different light....[Start reading and]...you will be hooked!...You actually get two books in one with Sanctuary of the Gods. You get an interesting, thought provoking story, as well as a valuable Tarot reference. Can't beat that. I have given this book all five of the little witches. I was impressed...." Emerald Moon, http://www.witchcrawler.com/cgi-bin/review.cgi


"[Sanctuary of the Gods] totally changed the way I do Tarot readings...It was really incredible...PS: I loved the story!" G. Cameron, card reader.
[ Home ] [ The Novel ] [ The Appendix ] [ The Author ] [ Comments ] [ Misc ] [ Links ]